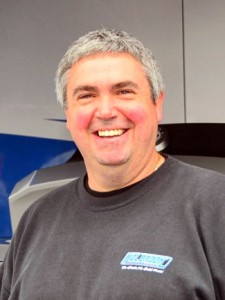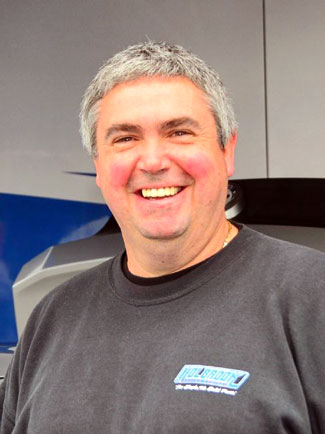 Chris Holbrook was about four years old when he figured out what he wanted to do with his life. Chris's father Carl Holbrook's long career in racing was something that Chris was able to watch first hand. Like most sons, Chris wanted to be like his father. Those were some pretty big shoes to fill. Carl Holbrook gained his skills wrenching in the Army's motor pools from 54′ to 58′. His first engine swap was a tank engine into a Jeep. Naturally the Army made him take it out. Soured on the military, Carl found a job at National Can Company which provided him the income to start racing dirt modified stock cars during the sixties. In 1967 Carl's job required him to move to New Jersey and travel to New York every day, Carl bought a 390 Mustang to make the ride into work more fun. He set up the Mustang so he could drag race it on the weekends and drive it during the week. Like most of us, Carl got hooked. He bought a Cobra Jet Mustang in 1968 and started tearing up the competition in Super Stock. His many national wins and records earned the nickname "Captain Cobra Jet".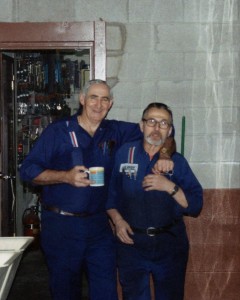 In 1973, Carl had to open his own shop to take care of all the racers that wanted his talents applied to their engines. Chris Holbrook was able to be at his fathers side learning engine building from a very early age. By 1983 the volume of information that Chris absorbed over the years working with his father combined with his ability to drive started getting Chris noticed at Detroit Dragway. The 428 FE powered 63 Galaxy that Chris raced in bracket one honed his ability to setup, tune and drive a car consistently. By 1995 Chris gained enough confidence to step up to IHRA Top Sportsman class. His debut was spectacular.
At the 1995 IHRA World Nationals at Norwalk Raceway Park Chris Holbrook showed up his with new Stu Evan's Ford, Lincoln, Mercury sponsored 95 Mustang that only had one run on it and won the Top Sportsman Eliminator Class with consistent 7.0's at over 200 mph with his dad Carl adjusting the flow of Nitrous on the brand new 638 cube ' 95 Mustang. The icing on the cake was winning it all and being voted Best Engineered Sportsman that weekend also.
In 1996, Chris was transitioning to Pro Stock in the Stu Evans Ford Lincoln Mercury Ford Credit ' 97 Thunderbird. The Thunderbird was a Tim McAmis creation featuring an 814 cubic inch Jon Kaase Mountain Motor. Chris was running 6.76 at 205 mph with that setup.
Their first full season in Pro Stock was 1997. Making the transition to a new class and car gave Chris many challenges that year. Chris finished 7th in the 1997 Pro Stock season.
Over the winter the team switched to a Probe for the 1998 Pro Stock season. They got everybody's attention on March 29th 1998. Chris set a IHRA Pro Stock World Record E.T. of 6.696 and then added the mph record of 207.11 on July 31st 1998. Chris proceeded to set and reset both records a total of 11 times that year finishing 3rd in Pro Stock for 1998.
After a season like 1998, the only goal left for 1999 was winning the Pro Stock Championship. Butch Peterson was handling the Crew Chief position for Chris in 1999. Butch had been looking for way to showcase his talents for a while, and this was going to be a great year to do it. With Chris focusing on driving, and the level of communication and respect Chris and Butch have for each other, they went to each event expecting to win. They weren't far off in their expectations, Chris had the season of a lifetime in 1999. They dominated the IHRA Pro Stock Class, qualifying first at 7 races that year, winning 5 of the events and the 1999 IHRA Pro Stock Championship.
With the sudden disbandment of the Stu Evans racing team after the first race of the 2000 season, Chris ran the second race of the year with a engine borrowed from one racer and a chassis from another. Chris drove for the Luckett and Bohanan team for the rest of 2000. In 2001 Chris teamed with SRI Marble and Granite. Chris drove for them till the team disbanded in 2002. It was a tough period for Chris. Coming off a Pro Stock Championship season and not being able to find a team that had that potential to get hem back to the winners circle, Chris started thinking about establishing a engine building business.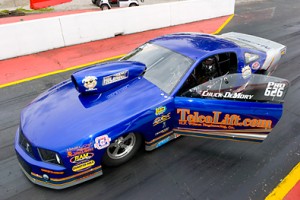 In 2003 Chris and Chuck DeMory got together to run the IHRA Pro Stock Class. At the first race, the 2003 Rick Jones built Holbrook Powered Ford Mustang stunned the field by qualifying number one. At the next race in Toronto, Chris had another great outing and was runner up. Unfortunately Chris's season took a turn for the worse at the next event in San Antonio TX. Chris had just crossed the finish line and went for the chute. Nothing happened when he pulled the release. When he got on the brakes and the car pitched sideways and started to flip. Chris heard his crew chief scream "number one qualifier" over the headphones at the same time the series of flips started. Chris was watching his legs and arms fly all over the interior, hoping not to break to many bones. His chassis builder, Rick Jones was at the end of the track watching the wreck unfold. Rick lost count of the flips at 8. Meanwhile Chris was inside the car thinking about how he'd like to see his kids grow old. The safety crew at the end of the track had their cart on the track surface in the shut down area by the sand trap. They had to jump for their lives when Chris's car turned their cart in lots of little pieces. When the Mustang finally came to a stop, Chris had about a half second before the fire started. He was half way out of the car by then, and it wasn't to bad. Chris got away with some severe bruising, but the car was a total wreck. Chris was able to borrow a 1998 Probe from Rick Jones and Chuck DeMory to finish run till they got the new car finished. He did the best he could with the older car, but it had been built five years ago and wasn't really competitive. The debut of the Rick Jones built Holbrook Powered 2004 Ford Escort at the IHRA Nationals at Milan Dragway in July of 2003 was typical of Chris Holbrook's career. Once again Chris brought a new car to an event and qualified number one. The winter of 2003 Chris started to make a transition in his life, deciding to focus more on the Engine Building business. Don't get me wrong, Chris still likes get in a car and drive.
But there's quite a thrill to watching your engines powering multiple winners in many different forms of racing. With two generations and over 80 years combined experience, the team at Holbrook Racing Engines can perfect your engine package no matter what type of racing you love. Let us turn our history into your Horsepower.