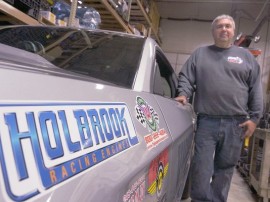 Redford resident Chris Holbrook is no stranger to success on and off the racetrack.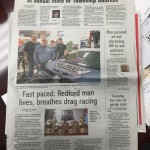 In addition to operating his shop, Holbrook Racing Engines at 31831 Schoolcraft in Livonia, Holbrook has raced competitively for several decades, following in the footsteps of his father, Carl.
Today, Holbrook, a Redford Union High School graduate, can be regularly found in his workshop, working on engines and cars for customers as well as family members.
Holbrook said keeping a shop for racing vehicles was already in his blood.
"The love of the sport. That's what I grew up in and it's what I know," he said. "So I thought, 'Why not have a business?'"
It's a pastime that continues to run through the family: Holbrook children all have taken up racing. Two vehicles parked in the back room of his business are his children's.
Highland resident Jeremy Combs said he's worked with Holbrook for about 10 years after business was slow at his other job. He was laid off and had a connection who knew Holbrook. He applied and began working with him on a daily basis.
He's gone a few times to the track, but prefers to be in the shop working on engines.
"I went to a couple of races," Combs said. "I don't get into much of the race car aspect of it. Just the engine build portion of it."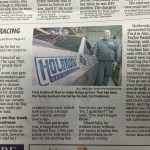 Among Holbrook's accomplishments are record-setting times on the track, as well as wins at the U.S. Nationals of the Factory Stock Showdown, something he has accomplished two years in a row.
"That's kind of unheard of," he said. "Not too many people have done that."
It's an event that gets a lot of automakers and enthusiasts excited, being able to demonstrate the power of the cars made by domestic automakers and modified by the car owners.
"The fans and the Big Three, they really get into it," he said.
Success on the track helps business
He hasn't been without problems while on the racetrack, however. Holbrook said he's crashed just once, which took place in a brand-new vehicle several years ago.
"On that particular run, it happened after the finish line. I was just going on my side and a guy on the starting line was in my ear saying, 'No. 1 qualifier!'" he said. "You don't forget those."
Thankfully, he walked away without any major injuries, but it's something he remembers vividly.
Holbrook, who is sponsored by Varsity Ford in Ann Arbor and Taylor-based Watson Racing, said breaking records and winning trophies has had a nice side effect: it's attracted many new customers wanting the best for their vehicles.
"Our success at the racetrack has helped tremendously," he said. "You go out and you run your own product and if you do well, everyone wants what you have. Now, we're getting more and more customers out there, and they race against me. We're doing such a good job, now, we're getting beat by our customers."
dveselenak@hometownlife.com | 734-678-6728 Twitter: @DavidVeselenak
Related posts